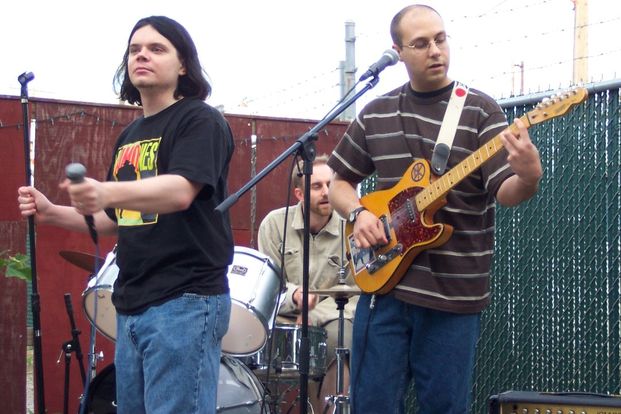 June 19, 2004, at Pat's in the Flats
Cleveland, OH
Before EG hit the stage for the first time that night, I took the stage earlier with my friends Mike and Eric as The Pinheads. I was actually standing in for our friend Gary who was unavailable, and Eric was essentially playing the part of our friend Brandt, who was probably somewhere doing something else. The Pinheads, along with The Doldrums which preceded it (which was myself, Mike, and Gary) were the origins of what we now know as "Sitcom-Core."
Mike and I had been wanting to be on stage together since we were teenage punkers, and we were finally able to here in our mid-late 20's. Eric was the guitarist for the punk rock band I sang for in Columbus called Upchuck Berry, which featured our friend Brandt on drums and our friend Jeff on bass. This marked the first time we had been on stage together since 2002.
Mary Alice and I were extremely nervous to be doing EG that night, and when the screen we brought for projection kept getting blown over by the strong wind outside, we were panicked and just wanted to forget about it. "No," Eric said. "That's why we brought it." We then got concrete blocks to hold up the screen, and we went on went the show as planned.
It's a mantra we still use to this day when we flummoxed or frustrated when trying to do something ambitious: "That's why we brought it."