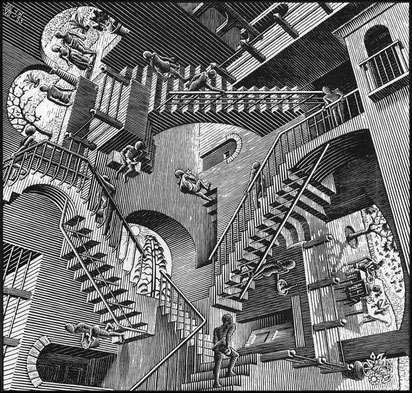 Mary Alice wrote a letter to a Bed and Breakfast we stayed at in Baltimore this past weekend, a letter which should be seen on Reddit and Gawker alike.  
The letter becomes a parody of itself about 2/3 of the way through, when she starts talking about the bedding and breakfast.  Our friend Chris pointed out the surreal nature of the line, "We discovered that we could access the office by going down the stairs and back up again," as if it were some sort of time-vortex method of gaining entry.  Our Facebook pal also pointed out that the last line of the letter hints towards a mafia type protection racket, i.e "Hey, this is a nice place you got here....."
Enjoy! 
To whom it may concern:
My husband and I stayed at the Abacrombie Inn the night of June 29 and experienced a number of issues that made us hesitant to want to stay at the Inn on a return trip, despite the close proximity to the train station and a number of points of interest important to us during our stays in Baltimore.
First of all, I understand that it is a small business, and as such, it is difficult to have staff on site at all times. However, we were very confused upon arrival, as a result of no directions to guests on how to proceed when no one is currently on site. There were three numbers to call, posted on the front door. No one answered any of the phone lines upon first attempt. When we received a call back, we were provided reasonably clear direction, much of which could have been provided to us via email prior to our arrival or provided in writing at some point. I also recommend someone is available to answer the main office line at all times during the day.
The next issue is in regard to maintenance of each rooms and what course of action guests should take if anything is needed. The sink in our room broke immediately after we arrived. We reported it to an employee we saw in the hallway, who looked at it and indicated he could not help us, but said he would let the maintenance man know, who would address it right away. No one came to help. So we called the office again. A different man came up to our room to see whether he could fix it. He explained to us that the maintenance man did not work on weekends, so the sink would have to be fixed on Monday. As such, we had a non-functioning sink the entire time we were there.
Related, the concept that it is unclear to guests as to who should be contacted in situations where something is needed is problematic. In addition to the difficulty we had with our sink, we ran out of toilet paper. Because of the lack of telephones in the rooms with a direct line to the office, I was not clear on what the procedure was. However, I did ask the person who looked at our sink to provide toilet paper and he did, which I appreciated.
While I understand that older buildings present unique difficulties with respect to heating and cooling, I would also suggest that the window units be serviced or replaced. The AC unit in our room (302) did blow air that was reasonably cool, but did not seem to effectively dehumidify the room, which made it quite uncomfortable for sleeping.
Relatedly, I would also recommend adding a top sheet to the bed-making practice. As it was, from bottom to top, there was a mattress, a flat sheet, a mattress pad, another flat sheet, and a down comforter on our bed. Traditionally, top sheets are provided so that one may create a semi-protective barrier between one's skin and the comforter, which is advantageous both to the person in the bed and keeps the comforter clean. Because it was so warm and humid in the room, I would have been very grateful to have the top sheet, as it was far too warm for the comforter. Our only other option would have been to sleep directly on the mattress pad, which would have created even more serious issues with hygiene.
I understood that the breakfast available was a continental breakfast and did not expect eggs or pancakes or the like, but I did expect that baked goods provided would be fresh and in generous quantities, as is traditionally provided at a bed and breakfast. As it was, we were offered stale raisin bagels, stale English muffins, prepackaged donuts, in addition to a variety of cereal (which I do not eat), fruit (which I appreciated), juice, milk, and cold coffee. As I see it, on a Sunday morning, it should not be that difficult to provide fresh baked goods and hot coffee to guests. I also observed fruit flies, trapped under the saran wrap that covered the bagels and further questioned the sole availability of cream cheese with chives to use on cinnamon raisin bagels.
Finally, I asked several different people whether we would be able to leave our luggage in the office or another secure location after checking out, but before our train left. I mentioned to both individuals that we would probably be back around 2:45 or 3 to collect our things, and both indicated that this should not be a problem. I was told (by a gentleman who answered one of the posted phone numbers, but reported to me that he was not on site for the day) that I should use a supply closet next to the office to store my things. As you know, from the ground floor, the office appears accessible only through the dining room. There was no one in the office, so we placed our items in it, surrendered our keys and left for the afternoon.
When we returned, at 2:45, we found the door to the dining room to be locked. I was not keenly aware of any other access point, so I called the office number, to no answer. On the second attempt, I left a rather frantic voice mail, letting the staff know that our train was to leave in an hour and that we really needed to access our things. After a few minutes with no return call, we discovered that we could access the office by going down the stairs and back up again. What disturbs me very much about this situation is the fact that I never received a return call to my frantic message. What would we have done if we hadn't discovered the alternate entry?
On the upside, as I am sure you are aware, the stay was made reasonably enjoyable by the proximity to Penn Station and the nearby public transportation options. It was also very nice to stay away from the Downtown/Inner Harbor area and see a different part of the city. I also thought that our room was very nicely decorated and there were a lot of lovely little details that made it seem less like a hotel and more like a true guest room. I didn't realize that you had a private parking lot, which opens up the transportation options significantly in future trips. I think that the issues I have presented above are ultimately fixable and the Inn has a great deal going for it. It would be a real shame for odd details like these to cast a black mark on a property that otherwise has the potential to be very successful.
Good luck to you in the future.