---
Here is the new video for our song "You're in the Show" directed and animated by Dylan Mars Greenberg! Wallow in the amazing goodness.
January 12, 2022
---
The Electric Grandmother is the story of a couple and their lives, come together to make humorous, surreal, post-modern music and imagery.  Inventors of the genre "Sitcom-Core."  Purveyors of love and vulgarity.  Washington DC is their home.
---
---
I'll tell you what it's all about.  The Electric Grandmother began in December 1999 in Hawaii as a solo bedroom project of mine.  I had been telling my future wife/bandmate Mary Alice that "The Electric Grandmother" would be a good name for a band, and she suggested that I adopt the moniker.  I recorded mountains of songs using an old keyboard I got for my birthday when I was about 11 or 12.  I recorded several cassettes of incredibly lo-fi sounding songs in the same vein of my old band The Doldrums, focusing on minimalist sound and the subject of TV sitcoms from the 80's and 90's.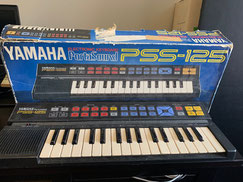 Used between late 1999 - early 2002.  Many of the songs are available on the Make a Joyful Noise collection.
Mary Alice and I relocated to to Columbus, Ohio in 2001.  In late 2002 I began to record on a borrowed analog 4-track cassette recorder with an upgraded keyboard, and Mary Alice and I packaged homemade CD-R albums.  On the encouragement of a friend, I submitted a handful songs on cassette to WCSB, Cleveland State's radio station, in the Spring of 2004.  The DJs at the station thought highly of the songs, and invited the band to headline a festival called "Cassettefest Fest."  On June 19, 2004, The Electric Grandmother played it's first hastily thrown together show in Cleveland, Ohio.  We borrowed the idea for incorporating visuals into our set from a band we were good friends with, so I sang on stage to music while Mary Alice operated an old slide projector for background images.  It was around this time the term "Sitcom-Core" was coined.
Through 2005 and 2006 we began to get some attention around Columbus for our quirky songs and unorthodox live performances, which were often accompanied by balloons, a bubble machine, disco lights, and traffic cones. Though we became the group best known for sitcom-related tomfoolery, perhaps our most popular song at the time was about talking on a car phone.
I transitioned from using a 4-track to record to a digital audio workstation, and in 2007 we were signed to All Hail Records and released The Stenographer, which cracked the Top 30 playlist of several college radio stations and received a rating of 4 stars in Alternative Press.  This album featured "Miami is Nice," a fan favorite about the Golden Girls that we still close every show with to this day.
2010 brought the release of Listening Party, and a change in record labels to the Infinite Number of Sounds Recording Company, who also subsequently digitally redistributed our back catalog. The album was featured in online magazine PopMatters and featured popular numbers such as "Dinosaurs" and "England-Man American."
In 2011, we made the decision to depart Columbus for Washington DC.  We played our last show as Columbus residents on May 30, 2011, at our favorite club, The Treehouse.  
2012's Love in an Escalator was a new exploration and expansion of sound, done partly in Columbus and party in our new DC home.  The song "Mrs. Doubtfire" gained the attention of station DC 101 and received regular rotation on a show featuring area bands.  We hit the ground running in DC, which resulted in my severe emotional burnout, which was followed by a catastrophic bout of depression and personal difficulties.   I managed during 2013 to catalog old cassette recordings I made between 1999-2002, a collection of 100 songs called Make a Joyful Noise.
2015's The Bodyguard Soundtrack was released while I attempted to rebuild as an individual, and as we attempted to gather ourselves as a functioning unit. This album also marked the final release for Infinite Sounds Recording Company.  Despite the difficulties, we were able to churn out something in the traditional spirit of the group, and a bit of a look backward in subject matter.  We also shot our first official music video for the song "Fuller House."  As of 2016 we were beginning to feel the strain of performing the same songs the same way for so long, and very briefly considered stopping altogether before vowing the very next day to take a new direction from then on out.
Our new idea was to create a concept album that would possibly close the book on a era, to tell the story of a man who loses his mind after his favorite cop drama is cancelled.  We planned to shoot a movie about about the show he loved, and a rival show which indirectly caused it's cancellation.  The music was written, and the movies were shot with help from DC locals, and the 2017 album Cancelled was born.  The album was loosely based on my then recent struggles with mental health, and was a dark departure from the majority of our past lighthearted output.  It was widely received as our best album and most creative effort to date, and solidified our desire to keep pushing ourselves to do new and different things with our work.  It was also the first album on our own "label," which is lovingly called "Two Dillweeds."