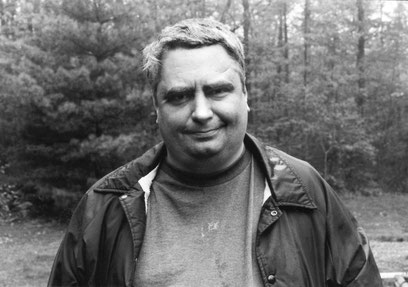 I realized today that while I have told this story many times, I've never written about it.
It was December 2001, and we had been in Columbus for just under three months.  We knew virtually no one, and were still just getting settled.  Daniel Johnston, one of my longtime musical heroes, was playing at a now defunct club called Little Brother's.  I had never seen Daniel play, as he toured infrequently due to his suffering from various mental illnesses, primarily bi-polar disorder.  Daniel was a major influence on my songwriting around this time; In recent years, I've found myself unable to listen to his music as much, as his lyrics have such despondent themes.  As a friend of mine once so eloquently said, listening to his music is "Like watching a retarded kid get beat up."  Much like the experience of listening to his music, our meeting him was both pleasurable and disturbing.
We arrived early on the night of the show, at this point unfamiliar with the Columbus tradition of starting shows late.  There were only a few people mulling around the club, and there was Daniel, sitting at the bar and smoking by himself.  I walked over to the area where his merchandise was being sold, and nervously talked to his friend and handler (I don't mean to be rude when I say "handler," but that's seriously how it is when he's on the road, someone needs to look after him), Don.  He could tell I was nervous, because I had never seen Daniel in person before.  (Keep in mind I was 23 years old at the time, and hadn't met too many "known" musicians before).  Don told me that I should go say hi, so Mary Alice and I walked over to the bar where he was sitting.
"Daniel?" I said softly, as though I was trying not to frighten a small animal. "Hi, I'm Pete."  He turned to face me.  "Hi Pete!," he said loudly.  I nervously asked him how he was liking being in Columbus.  He turned around in his chair, looked around the room, and knit his brow. "Where are we --- Corpus Christi?," he asked to no one in particular.  My stomach dropped, and my butthole clenched.  I anxiously turned to Mary Alice for help.  "Daniel," she said confidently, "We saw your spot on MTV2, it was really good."  Daniel seemed to perk up a bit.  "Oh yeah, yeah...do you know any good place to buy records?  Are they any good record stores around here?"  I told him about Used Kids, a legendary Columbus haunt that had his "Hi, How are You" album cover art poster on their wall.  "Do you have a car?  Can you take me there?"  I wildly answered "YES" on behalf of us both, Daniel asked Don for some record shopping money, and we were on our way.
Mary Alice walked ahead of Daniel and me on the way to the car, and I already was geeking out on him with questions about his collaborations with Jad Fair.  We started on our way up High Street, us in the front and Daniel in the backseat.  We made some small talk, and Daniel asked if we made music.  Electric Grandmother was still exclusively a solo project at the time, and I had just started fronting a short-lived band called Upchuck Berry.  I told him that I did, and he said "I could tell."  We drove past the Wendy's restaurant on High, and Daniel let out a high-pitch shriek of "HI WENDY!"  Mary Alice and I sat in silence for a moment after.  We later passed Buckeye Donuts, and Daniel asked if we wanted to stop and have one.  We parked the car, and headed on over.  Daniel told me that they had seen a lot of pretty girls on tour.  He was wearing an old California Angels baseball cap, and I asked him if he was a fan of the team.  He told me he didn't know who they were, and that he had bought the cap because the initials said "C.A.," as he was a huge Captain America fan.  I was well aware of this, as Captain America had been a thematic presence in both his drawings and songs.  Though I was initially nervous at how he was acting at the bar, he seemed to be acting relatively calm and collected while hanging with us, and it put me at ease.
Daniel insisted on buying us donuts, as he playfully bragged how he was "rich."  We sat down together and engaged in musical small-talk.  He seemed to go in-and-out some - there were moments where his attention would drift and he would say something bordering on nonsensical, but he would eventually come around.  I asked him about his relationship with Matt Groening, and he acknowledged their mutual admiration for each other.  He said to me, "Boy, I bet you didn't know you'd be hanging out with Daniel Johnston tonight, huh?," which I found cute, but made Mary Alice mentally roll her eyes a bit.  Everything was going just swimmingly.  Then he had to use the restroom.
"Miss? Miss? Miss?!" he shouted to the waitress.  "Do you have a restroom I can use?"  She directed him to the restroom, which was occupied.  Mary Alice and I sat and chatted while Daniel waited...and waited...and grew impatient.  He knocked on the door.  Then he knocked again, and then again.  Then he began to yell.
"COME ON, YOU"VE BEEN IN THERE FOR AN HOUR!" he yelled, while furiously banging on the bathroom door.  We sat paralyzed with terror and uncertainty.  I thought about how I was going to have to tell Don that Daniel got in a fight, got arrested, and there was going to be no show.  Moments later, an extremely angry man emerged from the restroom, and said a variety of inaudible things to Daniel.  He came back to his seat fuming.  After Daniel finished, he stormed out of the bathroom still raving about having to wait.  "He was in there for an hour, singing and everything?!" he muttered loudly, as he walked obliviously right behind the still very angry man.  I asked Daniel if he was ready to go, and I mouthed an apology to the man who seemed to accept it, and was starting to cool down.  That's what was so strange - I apologized for someone who I barely knew, who was essentially in our care, and it was Daniel Johnston.  The guy understood that he wasn't going to get an apology from Daniel, but was placated when I did on his behalf.  It was kind of frightening.
We left the donut shop to go to Used Kids, but they were closed for the night.  Daniel said, "What about the 'Warehouse CD' we saw when driving?"  We were on our way back to the car to go to CD Warehouse, when I noticed that Daniel wasn't walking next to us.  I looked up, and I saw Daniel following a girl down the street.  He had this goofy smile on his face, and had taken off his hat in what seemed to be a gesture of chivalry.  "DANIEL!" I yelled after him. "The car's over here!"  He did a 90 degree turn and walked back towards the car.
We drove to CD Warehouse, and they were closed too.  There was a guy working at the counter on some paperwork.  I so wanted to make Daniel happy, so I knocked on the door and gave him a "PLEASE" look.  He shook his head no.  Moments later both Daniel and I started knocking on the door.  The guy turned around and began to silently yell at us through the thick glass.  We decided it was probably time to head back to the club.  Daniel remarked that the incident at the donut shop was "Something we'll all tell our grandchildren about."  The wife and I had a hearty chuckle.
I apologized profusely to Daniel for not getting him to a record store, but he said it was ok. Once back inside the club, I chose not to tell Don about Daniel's freak out.  The opener was already on, and it turned out to be a fellow from Philadelphia named Adam Brodsky, who was playing these witty folk songs and making wittier banter in between.  Long story short, we've now known Adam for almost 12 years and he played our album release show last year here in DC.
**************
Some things I'd like to make clear about my telling this story:
I certainly have no intention of mocking or embarrassing Daniel Johnston.   We saw him again two years later, and as expected he had no idea who we were.  Daniel's problems are well-documented, and the story I just told is like Christmas compared to other incidents in his life. This is a now forgotten drop in the ocean of his complicated life, but it meant a lot to us that he enjoyed hanging out with us that evening. This meeting occurred before the documentary The Devil and Daniel Johnston skyrocketed his popularity in the indie music world, so I'm glad we got to see him when we did.  No mention of the donut shop incident in the movie.  I hope that he's really rich now.
Here it is, a cover of Ode to Pestor by (the now defunct) Caution: PANTS!, written by the notorious Dan Pantzig.
The song is about a giant praying mantis named "Pestor," whose purpose is to serve as a religious alternative to some of the better known deities.  He'll rip your head off, so I don't know why you wouldn't want to Hail Pestor.
Download Now! ----> Ode to Pestor
Mary Alice wrote a letter to a Bed and Breakfast we stayed at in Baltimore this past weekend, a letter which should be seen on Reddit and Gawker alike.  
The letter becomes a parody of itself about 2/3 of the way through, when she starts talking about the bedding and breakfast.  Our friend Chris pointed out the surreal nature of the line, "We discovered that we could access the office by going down the stairs and back up again," as if it were some sort of time-vortex method of gaining entry.  Our Facebook pal Andre also pointed out that the last line of the letter hints towards a mafia type protection racket, i.e "Hey, this is a nice place you got here....."
Enjoy! 
To whom it may concern:
My husband and I stayed at the Abacrombie Inn the night of June 29 and experienced a number of issues that made us hesitant to want to stay at the Inn on a return trip, despite the close proximity to the train station and a number of points of interest important to us during our stays in Baltimore.
First of all, I understand that it is a small business, and as such, it is difficult to have staff on site at all times. However, we were very confused upon arrival, as a result of no directions to guests on how to proceed when no one is currently on site. There were three numbers to call, posted on the front door. No one answered any of the phone lines upon first attempt. When we received a call back, we were provided reasonably clear direction, much of which could have been provided to us via email prior to our arrival or provided in writing at some point. I also recommend someone is available to answer the main office line at all times during the day.
The next issue is in regard to maintenance of each rooms and what course of action guests should take if anything is needed. The sink in our room broke immediately after we arrived. We reported it to an employee we saw in the hallway, who looked at it and indicated he could not help us, but said he would let the maintenance man know, who would address it right away. No one came to help. So we called the office again. A different man came up to our room to see whether he could fix it. He explained to us that the maintenance man did not work on weekends, so the sink would have to be fixed on Monday. As such, we had a non-functioning sink the entire time we were there.
Related, the concept that it is unclear to guests as to who should be contacted in situations where something is needed is problematic. In addition to the difficulty we had with our sink, we ran out of toilet paper. Because of the lack of telephones in the rooms with a direct line to the office, I was not clear on what the procedure was. However, I did ask the person who looked at our sink to provide toilet paper and he did, which I appreciated.
While I understand that older buildings present unique difficulties with respect to heating and cooling, I would also suggest that the window units be serviced or replaced. The AC unit in our room (302) did blow air that was reasonably cool, but did not seem to effectively dehumidify the room, which made it quite uncomfortable for sleeping.
Relatedly, I would also recommend adding a top sheet to the bed-making practice. As it was, from bottom to top, there was a mattress, a flat sheet, a mattress pad, another flat sheet, and a down comforter on our bed. Traditionally, top sheets are provided so that one may create a semi-protective barrier between one's skin and the comforter, which is advantageous both to the person in the bed and keeps the comforter clean. Because it was so warm and humid in the room, I would have been very grateful to have the top sheet, as it was far too warm for the comforter. Our only other option would have been to sleep directly on the mattress pad, which would have created even more serious issues with hygiene.
I understood that the breakfast available was a continental breakfast and did not expect eggs or pancakes or the like, but I did expect that baked goods provided would be fresh and in generous quantities, as is traditionally provided at a bed and breakfast. As it was, we were offered stale raisin bagels, stale English muffins, prepackaged donuts, in addition to a variety of cereal (which I do not eat), fruit (which I appreciated), juice, milk, and cold coffee. As I see it, on a Sunday morning, it should not be that difficult to provide fresh baked goods and hot coffee to guests. I also observed fruit flies, trapped under the saran wrap that covered the bagels and further questioned the sole availability of cream cheese with chives to use on cinnamon raisin bagels.
Finally, I asked several different people whether we would be able to leave our luggage in the office or another secure location after checking out, but before our train left. I mentioned to both individuals that we would probably be back around 2:45 or 3 to collect our things, and both indicated that this should not be a problem. I was told (by a gentleman who answered one of the posted phone numbers, but reported to me that he was not on site for the day) that I should use a supply closet next to the office to store my things. As you know, from the ground floor, the office appears accessible only through the dining room. There was no one in the office, so we placed our items in it, surrendered our keys and left for the afternoon.
When we returned, at 2:45, we found the door to the dining room to be locked. I was not keenly aware of any other access point, so I called the office number, to no answer. On the second attempt, I left a rather frantic voice mail, letting the staff know that our train was to leave in an hour and that we really needed to access our things. After a few minutes with no return call, we discovered that we could access the office by going down the stairs and back up again. What disturbs me very much about this situation is the fact that I never received a return call to my frantic message. What would we have done if we hadn't discovered the alternate entry?
On the upside, as I am sure you are aware, the stay was made reasonably enjoyable by the proximity to Penn Station and the nearby public transportation options. It was also very nice to stay away from the Downtown/Inner Harbor area and see a different part of the city. I also thought that our room was very nicely decorated and there were a lot of lovely little details that made it seem less like a hotel and more like a true guest room. I didn't realize that you had a private parking lot, which opens up the transportation options significantly in future trips. I think that the issues I have presented above are ultimately fixable and the Inn has a great deal going for it. It would be a real shame for odd details like these to cast a black mark on a property that otherwise has the potential to be very successful.
Good luck to you in the future.
The year was 1984, I was 6 years old.  Michael Jackson's groundbreaking album Thriller had already been out for a couple years, but Michael-fever was burning as strong as ever in the suburbs.  There was a boy in my elementary school that did a splendid Michael Jackson impression.  The way he would moonwalk was like silky butter.  He and his friend (who I suppose acted as a hype man of sorts?) performed lip-sync covers of Michael Jackson songs on two separate occasions during one school year.  The first time they performed was in the school library for my sister's 4th grade class, and for some reason (who knows) my 1st grade self happened to be present.  They lip-synched to "Beat It," and it was the greatest thing I had ever seen - these two cool older boys jumping around, wearing sunglasses, and moving their lips to this amazing, thumping, exhilarating devil music that had never passed through the walls of my house.
Later that school year, there was an assembly in the school gymnasium, and the boys were scheduled to perform "Billie Jean."  It was one of those assemblies where the kids and their families are both in attendance (yes, one of "those" assemblies, I don't know. But that's what happened). I was so excited, I kept reading the assembly program outloud and repeating to anyone that would listen, "(The boys names), doing 'Billie Jean.'"  The boys came out, and simply brought the house down. The main boy was wearing a Beat It jacket and moonwalking, and I shit my pants.  I feel like I've talked about this on the site before, but I'm just laying the groundwork for what this is really about.
* * * *
A big event in my hometown of Aurora, Ohio is the annual Memorial Day parade.  I'm not sure of the specifics of the event anymore, but when I was young the parade would traditionally start at the elementary school and then make it's way to the local cemetery, which was the resting place for many veterans.  Once at the cemetery, the crowd would gather and stand in silence while the names of the veterans were read aloud.  Once the names were done being read, a group of soldiers would fire a few rounds of blanks into the air in tribute.
On Memorial Day 1985, I was attending the parade with my parents, while my sister was off on a hike with a group of classmates.  Nothing seemingly out of the ordinary happened during the parade, it wasn't until later that I felt troubled.  My mom was in my sister's room brushing her hair, when I swear I heard my sister say, "The boy who sang 'Beat It' got shot," to which my my mom exclaimed "Oh dear!"  I was also under the impression that my sister had previously named to my mom some other kids who got shot, but the "Beat It Boy" was the one that got my attention.  I presumed that the kids must have gotten shot when the soldiers had fired their rifles into the air at the cemetery.  I figured that they had been hiking in the woods behind the cemetery, and that the bullets hit the kids unbeknownst to the soldiers.
I was remember being a little shocked by the news, but figured it was just part of life.  The kids went on a hike, some accidentally got shot and killed, so be it.  It made the man who guided the kids on the hike seem rather callous when he thanked my mom for the Pepsi after the parade, but again, easy come-easy go.  I'm not entirely sure why I didn't react more severely. My age certainly was a factor, but I also had likely already seen an open-casket funeral by then.  It all made sense to me, just be careful and don't be in the wrong place at the wrong time.
It wasn't until I saw the boy who sang "Beat It" very much alive at the school that I realized that he and the other nameless kids had not been shot and killed.  I was relieved, but uneasy. I don't know if it was my vivid imagination, or the fact that I was a easily confused kid.  I mean, it was easy to confuse me.  It still kind of is, to an extent.
I told Mary Alice this story a couple months ago, and she gave me that "that's not okay"  look. This retelling was inspired by the blatant disregard for human life in this movie we watched last night, Death Race 2000.  You should see it, it's good.
This is a series devoted to great moments in the history of Sitcom-Core programming.  This is meant to celebrate the more obscure moments in sitcoms that you may have missed.  You won't find an over-caffeinated Jesse Spano singing "I'm So Excited" here.
Perfect Strangers -Season 4, Episode 4 - "Piano Movers" - November 4, 1988
This one is a little more well-known than what Great Moments was intended for, but I really wanted to talk about what a great physical comedy team Mark-Linn Baker and Bronson Pinchot were.  There are probably other physical comedy teams that came before them that were better, but I don't know who they are and I don't care.  In "Piano Movers," Larry and Balki are tasked with moving a piano for Miss Lydia.  Unfortunately, the piano does not fit in the elevator of her building (see below).
What happens next is in my mind the best example of the Perfect Strangers comedy-genius. They have to haul the piano up the stairway, and it's a delight. They get tired, and what have you, and it's zany.  The piano eventually rolls out of the window and crashes onto the street below, it's fucking hilarious. 
Here is yet another exciting effort from the team of Pantzig/EG.  It's a cover of Cindy's on Methadone by Screeching Weasel.  SW is both one of our favorite bands, and their frontman has a lot of problems.  But hey...I don't know how to finish that sentence.
Anyway, Dan did the music, I did the vocals/effects, so here it is.  It's a bit "quirky," cuz why not.  I've been advised it sounds like total shit coming out of a computer speaker, so you may want to use headphones so it sounds like slightly less total shit.
4th grade was a very memorable year for me - I don't suppose because of any specific reason, I just have many vivid memories of that time.  I think this was around the time that I realized that I was shorter than everyone else.  I grew up in a generally safe, but conservative and mean-spirited town called Aurora, and the meanness extended up to the public schoolteachers. The Aurora public school system is well-funded now, but it certainly wasn't in the 1980s, and that no doubt made the teaching population very pissy.  If you were to compare the schools now to how they used to be, it's like night and day.  There were literally no male teachers in our elementary school, to give you a sense of how small-town Aurora was a mere 25 years ago.
My 4th grade teacher Mrs. Edwards was in retrospect quite a lovely woman.  Sure, she could get surly sometimes when the children misbehaved, but she had a very kind manner about her, and you rarely felt fearful in her presence.  The other teachers in the 4th grade were a far different story.  There was the monstrous Mrs. Houghton, a towering woman who terrorized my older sister when she was in the 4th grade.  On a few occasions they would rotate the teachers between the classrooms for a portion of the day, and one day Mrs. Houghton angrily declared our class to be "The most boring class ever."  But that's not who my big problem was with...
Yes indeed, the young upstart Mrs. Shepherd, she couldn't have been older than I am today. Her classroom was only door down the hall from ours.  On occasions on which I would be in the hallway, I would turn my head to look in her classroom, because that's just kind of how I've always been.  Sometimes there would be students in the classroom and she would be teaching, other times the students were away and she would be sitting and working at her desk. Eventually I began to notice her making eye contact with me and giving me dirty looks when I would look into her classroom.  It then became a dare to myself to do it more often.  One day her door was shut, and I made it a point to stretch up and look for just a moment through her door window.  I can't remember if I saw her notice me, but she must have, because moments later she walked out into the hallway and (paraphrasing) asked me what my problem was.  I probably said "Nothing," or said nothing, and walked to the bathroom.
One day when her door was open, I noticed an interesting poster on her classroom wall when walking back from the restroom.  I made a point to walk out of her sight so I could explore the poster further (honest).  I don't know how she knew I stopped near her door, but she burst out and asked me what I was doing.  I probably said "Nothing," or said nothing.
A couple days later I was on my way to the restroom, and I walked past Mrs. Edwards and Mrs. Shepherd talking to each other quietly in the hallway.   I was almost to the restroom when I heard Mrs. Edwards shout at me, "PETER!  COME HERE!"  It was one of those butthole clenching moments.  She asked me why I had been "wandering the halls(?)," and advised me that Mrs. Shepherd had found me "hiding behind her door" the other day.  I was too terrified to explain away my innocent yet eccentric behavior, so I just kept my mouth shut.  She told me that she would let me know when it was okay for me to go to the bathroom again.  She never did tell me it was okay, so about a month later I asked, and she was okay with it/or had forgotten about the whole thing.
I never really got the deal Mrs. Shepherd - what exactly was her problem?  Was she a paranoid person?  Did she just not like my large bespectacled head peering at her?   I maintain that I was just a curious kid, and didn't do anything wrong.  I hope she got fired for being mean to me.
FYI, I used the real names of the teachers, because who cares.  Below is a screenshot of the Wikipedia page for my high school that I recently vandalized
This is a series devoted to great moments in the history of Sitcom-Core programming.  This is meant to celebrate the more obscure moments in sitcoms that you may have missed.  You won't find an over-caffeinated Jesse Spano singing "I'm So Excited" here.
Full House – Season 6, Episode 8 – "The Play's the Thing" – November 17, 1992
Your eyes are not deceiving you, that large picture is of Danny Tanner sitting naked in a bath tub with twins that are not his own.  Those twin boys belong to Uncle Jesse and Aunt Becky, they are Danny's nephews.   I know we're not to supposed to presume that something nefarious is happening, but I think most people would find this arrangement at least somewhat inappropriate.  The scene is especially uncomfortable, as Becky walks in on them unaware of what is occurring.  The plot of the story is how Danny is hogging the boys all to himself, because he misses having young children around.  The expression on his face in that picture says in all.  He farted in the tub.
Unless you've been on me and DJ's Facebook-friend Mars, you know that we had bats come into our apartment, two within six days of each other.  One had rabies, the other (scarily pictured above) did not.  We had animal control come get them each time, and the Department of Health never was able to figure out the pattern of which they came in, as it made no logical sense.
So we've been a little on edge about bats as of late, so we discussed last night about how I should write a song about the bats.  So I did a rap about the bats this morning, it took me a little under an hour.
I still say it's better than Trinidad James "All Gold Everything."
Below is a "Bat Timeline" that a hysterical Mary Alice made.
Here's a cover of Hybrid Moments by the Misfits.  From what I understand, Glenn Danzig is a very friendly, patient, understanding person without a trace of ego, so I felt it necessary to pay tribute to him.
Last night, Mary Alice and I watched a movie called Tim Richmond: To the Limit about 80's NASCAR driver Tim Richmond.  Tim entered the racing scene at a time where drivers were primarily "Good ol' southern boys," and there was no room for a cosmopolitan man of the 80's. Well, Tim Richmond changed all that with his renegade ways, and he is also the Eightiesest man who ever lived.  Tim tragically died of complications due to AIDS in 1989, but everything in his life was awesome until he got sick.  He was checking out the backsides of blonde broads until the end.
Below is a video tribute I made to Tim Richmond.  It is accompanied by these weird 80's songs that GG Allin made long before he would roll around naked in his own feces.