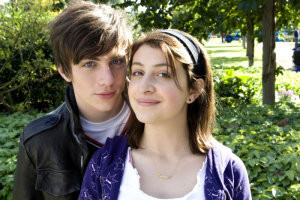 While washing my crotch in the shower this afternoon, it occurred to me that it's been 15 years since The Electric Grandmother was conceived.  What started off as a solo home recording project has turned into a world famous husband-wife musical duo.  It was December 1999 when I made the first Electric Grandmother tape called "Groovin' on the Jack Move," named after a phrased muttered by the late great Wesley Willis.  
Since we started Electric Grandmother as a live act in 2004, I can honestly say that the best part of it all has been all the awesome friends we've made over the years. We're some of the luckiest damn people in the world.  That's all that really matters, it's far greater than the American Music Awards we've received.
One of the most important things I've learned over the years is how important it is to treat other people kindly.  The underground music scene is not the socialist-utopia I presumed it was in my early 20's, it's a lot like high school: People grappling for position, wanting to be more important than others, trying to fill a void in themselves by putting people down.  I tell you this my friends - the cynics will always lose, because like the rest of us, they won't be here one day.  We haven't got time to be opportunistic at the expense of others, because we don't live forever.  That's another important thing I've learned.
Be excellent to each other.
I was a very nervous and anxious child.  Like, really bad.  Sometimes adulthood can be a real challenge.
When I was maybe 10 years old or so, this beer commercial (see below) featuring Elvira came on while I was watching TV with my dad.  At one point during the commercial (:14), Elvira says "It's like Deja Vu," and then there's a quick screen wipe, and she repeats herself.  For some reason this threw me into a panic, and I turned to my dad and asked frantically "WHAT MONSTER DID THAT?!?"  My dad, confused and annoyed, said something like "I don't know, it's just silliness!" (How my dad talks)
Couple of things here - I didn't understand what "deja vu" meant, and I presumed what had happened to Elvira was something supernatural, which I already had an illogical fear of. Second, in my frenzied panic I didn't know how to express my question, so I asked my dad what "monster" could have done that.  For the record, my dad would have no idea about the monster.
Flight is about the story of a man who drank and flew an airplane upside down.  He did it so they wouldn't crash.  But then the people who were trying to help him got mad, because he was drunk while he did it.  They had breakfast together to talk about the airplane, and they got more mad.  Then the man started drinking again.  He went to his cabin, and he got rid of all his drugs.  There was a woman from before, and they drank and had sex in his chair.  That woman was from the hospital with the man in the stairwell.
Later, the woman decided she didn't want to go with him, so she left him a note and left.  Then the man kept getting drunk, and tried to decide what to do.  They had a funeral for the girl he was sleeping with at the beginning.  At the funeral, he tried to tell the other woman what to do, and she got mad.  The man wanted to fly his small plane, but he couldn't.  They kept talking about how no one else could've flown the plane upside down.  The man was mad, because he said the plane had never worked.
Later, the man got really drunk by accident, and the people who were trying to help him called another man to bring drugs.  The man did the drugs, and he was fine.  He went to talk, and decided he didn't want to lie anymore, and he decided to go jail.  In conclusion, at the end of  the movie the man told the other people about how he had lied, and his son came to visit.
Award Winning Facebook Post - Archived
I'm going to open my own music venue here in DC, here are my instructions for booking shows, please follow them accordingly:
* Please secure 4 local bands that are guaranteed to draw 75-500 people each. Please understand that we are a business, and we need to pay the bills just like you.
* We receive approximately 25,000 booking inquiries per hour, we can only answer 2 of them per day. Please be patient with us.
* Before you even think of booking a show, you must come down to my venue and pretend to like me for approximately 6 hours per week over the course of 8 weeks. (The weeks don't have to be consecutive) If I don't get to know you, I can't trust you to play my club that holds between 30-50 people.
* We don't have a functional website, so it's up to you to advertise your show.
* Browse our website to see what kind of music we host. If you can't guess what we're looking for or fit into our club's philosophy, your inquiry will be ignored.
* We host ALL genres, except Punk, Hardcore, Metal, Indie, Emo, Hip-Hop, Screamo, Thrash, Country, Folk, Reggae, and EDM.
* We're really close to an Elementary School, so your set needs to be done by 10:30 PM.
* You'll get paid 20% of the door, minus the fee for the sound guy, doorman, bartender, and use of our PA.
* When emailing, put in the subject Line: "ATTN: Booking guy, I love you, please help, 1+95%6." If you do not use the language/code provided, your inquiry will be ignored.
* Please do not play any shows within a 100 mile radius to our club three months prior to your show.
* We generally book nine months in advance.
* No calls or emails, you must fax a band photo/press kit/musical samples by mail. Please allow six months for your music to be reviewed.
* If you email me a .zip file, I will crack your skull. Streaming samples only, please.
We'll see ya soon!
Tonight's show in Baltimore was shitcanned due to weather, we'll hopefully reschedule soon.
Two shows here, over here!  February 4th at the Velvet Lounge in DC, February 12th at the Sidebar in Baltimore!
This is one I've actually been sitting on for many months now, and it seems appropriate to share it now due to the arrival of our new computer.
It's called The Computer, appropriately enough.  The idea came about when I recalled a time when I called a friend's house, and (I'm about 80% sure) his dad left a voice greeting where he said, "THIS IS THE COMPUTER, WE ARE NOT AT HOME" (or something) in a nasally, 80's computer-like voice, reminiscent of V.I.C.K.I.  So essentially, the song is about an 80's computer taking over your body and soul.  Make sense?  Mary Alice thinks the song is possibly a bit too close to The Internet, but I don't give a hell.  I like it, and it's all vocoder, so that's cool.
Download now! ---->>> The Computer