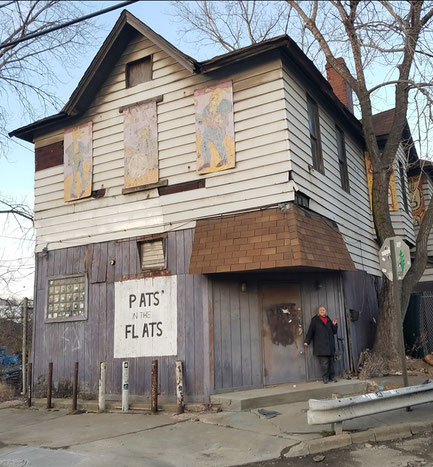 Show #45: May 20, 2006
Cleveland
Pat's in the Flats
w/ Oxymoronatron
Johnny La Rock & Mush Mouth
I don't feel like I have a lot of memories of this one, though I remember it being a good show. I made one of my usual for the era, "Grab-a-weird-picture-off-the-internet, type-the-band-names-over-top" flyers for the show, which is no doubt lost somewhere in time and outer space. Pat was always easy to book with; I remember I booked this entire show in one morning, she always got back to me right away. I recall Greg from Oxymoronatron telling me they were watching episodes of GI Joe in their van while traveling up from Dayton, which sounded spectacular. I also think this was the show where my old friend Gary, who I hadn't seen for a while, cautiously showed up, and had his nerves immediately jangled by Greg who loudly raved about the shirt (of a band I don't remember, and now it's going to bug me) he was wearing as soon as he walked in the door. So, some memories.
For all the bellyaching about issues with the venue itself as well as the odd location (isolated and not actually located in the Flats, an area where nightlife and people exist), we always managed to have a good time at Pat's. It was certainly a dive with zero walk-in, but they generally had less pee and dirt on the ground than at Bernie's in Columbus. Long may both reign in our hearts and nostrils.
Our friends Shaun and Crys were in town to see Pearl Jam, and they either met up with us at the venue or at a nearby hotel so we could all crash together overnight. I was extremely drunk already, and despite assurances from everyone that nowhere was open to get more booze, I insisted on stumbling around outside to look for some. There was of course nothing available, and I remember pouting and shuffling my feet sadly over the grass outside the hotel, only to return defeated to the indifferent people room. The next morning, for some reason, Shaun and I were singing "Lunchlady Land" by Adam Sandler in the hotel lobby. Pearl Jam wishes they were at that party.