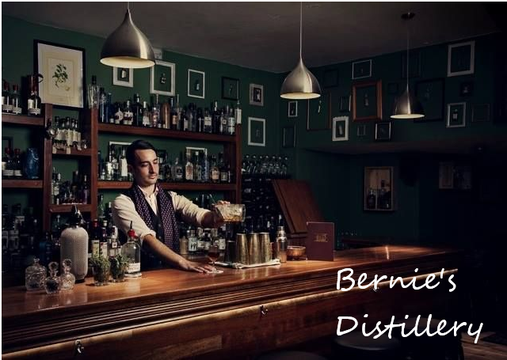 Show #21: June 23, 2005
Columbus
Bernie's Distillery
w/ Fat Girls by the Snack Table
9-Volt Haunted House
I don't know why I got in the habit of listing shows at Bernie's as being at "Bernie's Distillery." It makes it sound way classier than it was. There was no finely-tailored mustachioed bartender serving craft beer to bearded patrons. Instead, picture the worst dive you've ever been to, multiply it by ten and then set it on fire. Either way, I was definitely excited for our second show with the Fat Girls at Bernie's Fine Distillery.
We had Cleveland experimental band 9-Volt Haunted House down to open the show. If you wanted me to show you a photo of what an "experimental music group" looks like, it'd be a photo of these guys. I had known Craig from the group through my friend Mike, and the other members Jack and Matt through the ExBe message board. I was certainly glad they went first, because they had a fuckton of stuff to set up. After they were finished piling everything on stage, they played an old-timey loop of "A-Hunting We Will Go" until the show began. I recall Matt from 9VHH and I looking at an ad for a White Stripes album in the Alive paper, and mocking Jack White's current Snidely Whiplash-esque appearance.
Our set went very well, so well in fact that at the end I spiked the microphone in triumph (our mic, don't spike the house mics, children). Matt later noted on ExBe how much more "dynamic" I seemed that night than the previous time he saw me, and correctly attributed it due in part to my consuming a good amount of Miller Genuine Draft beforehand. I think as a result, MGD became my drink of choice for a while. This solidified my resolve to begin a routine of always having a bit before going on, which is a practice I'll officially neither encourage nor discourage. It's fueled some fun gigs, and caused difficulty for others. Know when to say when, and practice how to safely fall over.
The Fat Girls then were up, and they began having sound problems shortly after starting. Sara started yelling at the club sound engineer Ryan Vile and saying "Fuck Bernie's!," which I wasn't sure was wise to do while they were on, but later realized that was par for the course for everyone involved. I believe the late great Don Bovee joined them on stage to do a rendition of the Batman theme-song that night, which for those who don't know, was a bit of a rite of passage for Columbus bands. (We were able to do a crummy version with him once at a later Bernie's show) Or come to think of it, I think Don may have tried to make it happen but Gretchen turned him away, and so Don stumbled over and told me they were both "bitches" and left.
We're getting into the local Columbus music scene weeds here, so I think it's a good place to stop.