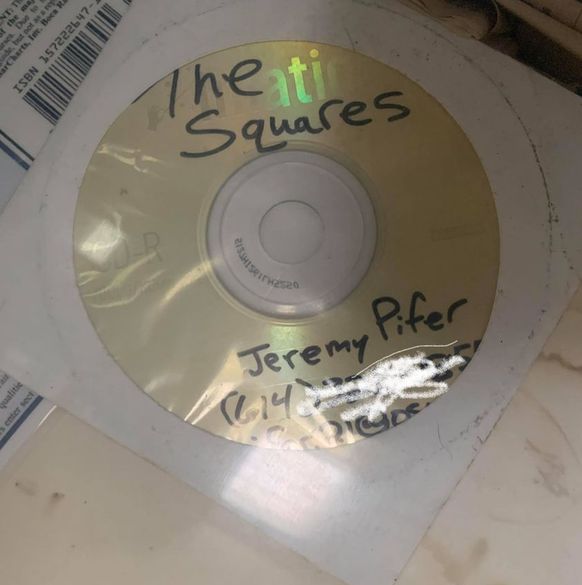 Show #10: December 20, 2004
Columbus
Bernie's Distillery
w/ The Squares
Blatant Finger
So about my friend from French class that I mentioned in the last story, Jeremy Pifer? We had been talking about our bands to each other for some time and were scheming about doing a show together. One day he handed me this very CD-R pictured here that I saved for all these years. Prior to listening, I was already planning no matter what to give friendly feedback to this young fella about his demo (I was a few years older than most of the students at OSU), but instead I was greeted by an amazing garage rock assault to the senses. I could not believe how good these guys were, I was flabbergasted. The next time I saw Jeremy, I pulled one of those "I didn't like it...I loved it!" on him, and he totally went for it, haha, youth.
The Squares invited us to play a show they set up at Bernie's, the (now defunct and developed over) notoriously filthy punk rock club of Columbus. You don't necessarily think of punk rock, at least in the traditional sense, when you think of Columbus. But I'd go to battle with Bernie's against any hole you think you know of. There's a famous story of a member of the Aussie-punk rock greats The Saints walking into Bernie's prior to performing, looking around the room and saying "I don't know what I did in a past life to deserve this."
On the night of the show, wouldn't you know it, our projector from Georgia State University gave out. I called Jeremy and asked if he wanted to try and find another band, or if he'd be interested in doing interpretive dance behind us in lieu of our projection. Both ideas were resoundingly rejected, so we thought the hell with it; I'd just go up there and dance around without Mary Alice's visual aids.
So that's exactly what I did, to a bit of a shortened set. I remember it being really strange and fun, and I specifically recall this gutter punk looking guy falling off of a stool laughing during the song "Doogie's My Friend," which made the whole thing worthwhile. Local punk band Blatant Finger followed our set, and they played for way too long. They had a bunch of bullshit, prepared-in-advance crowd-baiting ideas for between songs, specifically making fun of Andyman's generous size (shitty and totally out of nowhere) and the very recent shooting death of Dimebag Darrell at a nearby venue (pretty weak). After what seemed like an eternity, those assholes got off stage and The Squares rocked that motherfucker with the limited time they had.
****
We played with The Squares a few more times after that, and they broke up after a few years, but anyone who was there for their short time knew how great they were. They got signed to a popular local label and were named a Columbus Alive "Band to Watch," even getting the cover of the dang magazine. They were it, and good-looking to boot. Kudos to you, The Squares. Long may your legend hover around the 614.