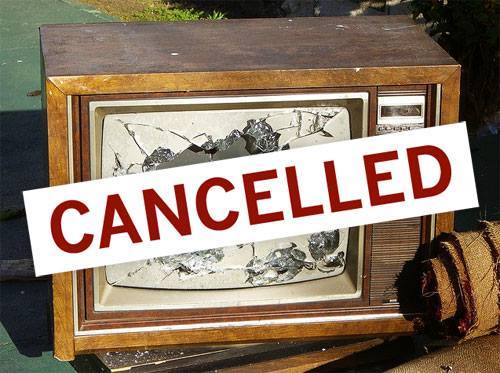 On this day, which is our one year new album conceptionaversary, we'd are pleased to announce the impending arrival of The Electric Grandmother's "Cancelled," the harrowing story of man who descends into madness following the cancellation of his favorite cop-drama series. We conceived the idea on the way home from what we deemed a sub-standard performance by us in Philadelphia, deciding that we both needed some new direction and inspiration. It's one of those things where you usually wake up the next morning and say, "We're not going to REALLY going to do that, it's stupid," but we instead said "We're really going to do this BECAUSE it's stupid."
So here we are, one year later, and our monstrous creation is coming to fruition. We're filming some accompanying short films to coincide with the release, I'll let Donna Jo decide when she wants to explain all that. It's a bit of a 90-degree turn for us, both in theme and soon with performance, and we're both really excited about it. We hope you'll dig it, and if you don't, you can go to hell fuck.
One slight change of plans - we were originally going to unveil this for Columbus on August 5th at the Tree Bar as part of Weird Paul Appreciation Night, but we've ditched that idea, as we need more time to finish, and besides, it's Weird Paul Petroskey's night. Us and Catscan! are still planning to come up and do some WP covers at that gig, but the official Columbus album release show will be on Saturday, September 23rd at the Big Room Bar, with Catscan! and others TBA. And we made a point to:
a) Not schedule the same weekend as Riot Fest/Jawbreaker
b) Not schedule during what would potentially be a night game for OSU
So we don't want to hear your shit. More dates and cities TBA, love me and DJ, and all of us at Electric Grandmother International Corporation.