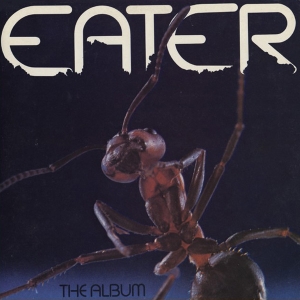 The slow speed at which I ate food as a kid was legendary.  My mom once recounted a story that she heard from a teacher/lunchroom monitor at my elementary school: A boy's mother was expressing concern to her that her son wouldn't eat fast enough at lunch to keep up with the other kids, and the monitor assured her, "Don't worry, no one eats slower than Peter Faust." And it's true, I often was the last person remaining in the cafeteria before heading out to recess.
There are a few prevailing theories to why I would eat so slow:
1. I march to the beat of my own drum machine, and I don't give a flying fuck about meeting the demands of fucking fascists.
2. I was easily distracted, and I would space out and forget about eating.
3. I guess there's actually only two.  I also think I didn't have a big appetite.  I was kind of a scrawny fella, remember.
4. Unlike some of the other kids, I would finish my lunch entirely.  The idea of throwing parts of my lunch away never occurred to me.
So, that's kind of a bummer, right people?  No, ya gotta be ashamed of eating slow!  Thanks everyone, I really needed to be reminded that I eat really slow, and that I'm an embarrassment to you and society in general. Once when I was finished eating my lunch, I headed outside for recess and I saw these two girls laughing at me.  "You just finished your lunch?," one of them giggled. Her name was Lindsay.  FUCK you Lindsay for reinforcing gender roles.  Sure, if I cram a steak down my throat in three seconds, you'll get all excited and want to make sweet love to me.
And as it turns out, eating slow is regarded as a positive thing in adulthood.  Now that I don't eat particularly slowly, they're telling me to because it's better for your metabolism.  I know I made this joke already once before, but there ya have it, the misunderstood genius is once again trampled by the ignorant masses.  And while we're on the subject of eating, you can all eat my fucking ass.