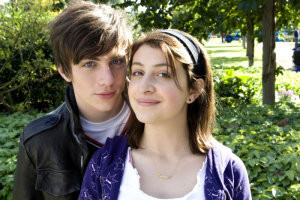 While washing my crotch in the shower this afternoon, it occurred to me that it's been 15 years since The Electric Grandmother was conceived.  What started off as a solo home recording project has turned into a world famous husband-wife musical duo.  It was December 1999 when I made the first Electric Grandmother tape called "Groovin' on the Jack Move," named after a phrased muttered by the late great Wesley Willis.  
Since we started Electric Grandmother as a live act in 2004, I can honestly say that the best part of it all has been all the awesome friends we've made over the years. We're some of the luckiest damn people in the world.  That's all that really matters, it's far greater than the American Music Awards we've received.
One of the most important things I've learned over the years is how important it is to treat other people kindly.  The underground music scene is not the socialist-utopia I presumed it was in my early 20's, it's a lot like high school: People grappling for position, wanting to be more important than others, trying to fill a void in themselves by putting people down.  I tell you this my friends - the cynics will always lose, because like the rest of us, they won't be here one day.  We haven't got time to be opportunistic at the expense of others, because we don't live forever.  That's another important thing I've learned.
Be excellent to each other.