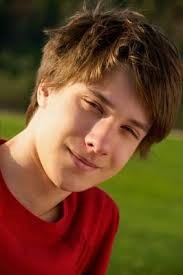 Have I ever mentioned before that I was a scrawny, nerdy looking kid?  Well, I was. Even after entering my teens, it didn't occur to me that I could do anything to improve my appearance.  I'm the same way as an adult in my mid-30s, I'm completely oblivious to the idea that I can change anything in my life for the better. I'll go months, sometimes years before realizing that I could have been doing something different to improve a situation, and it's often times glaringly obvious what it was.  But anyhoo...
I was never "that boy," the boy to be considered a romantic interest.  I was always too small and weird, I never even considered it a possibility.  Once I had a friend ask me how many "pretend girlfriends" I had growing up.  I told him that I had zero.  He restated his question, specifying that he meant, "For one day, you ask a girl out, she says yes, you're boyfriend and girlfriend, and the next day it means nothing."  I told him that I knew exactly what he meant the first time, and that I had never had any. He seemed genuinely surprised and sympathetic.  I supposed having one or two of them would have been nice.  But anyhoo...
Around the time I was 14, aided by the help of peers telling me that I should have more respect for myself and my appearance, I began to think of myself as a regular human being. I had begun growing a little bit, ditched my glasses for contact lenses, and got a better haircut.  The dividends of my efforts finally paid off one day when I was walking by myself in the dearly departed Randall Park Mall.  A dad was walking with his daughter and son, and he nudged his daughter while motioning towards me, as in "Hey, there's a boy for ya," and she proceeded to give her dad a playful "shut up" slap on his leg.  The girl looked a couple years younger than me, but I didn't care. I'd never been "that boy" before.  For them, that memory is no doubt forgotten in time, but it meant a lot to me, damn it.  You never know what you might do to make someone feel good about themselves.